Whilst most of our Sixth Formers go straight to University, some opt for a gap year or enter the workplace. Whatever students decide we support them every step of the way.
Support programme
Our support programme starts in the spring term of Year 12 when we work with students to research university courses and alternative options. We also encourage girls to attend a Higher Education Fair and hold an information evening for girls and parents. Experienced teaching staff also offer support for admissions tests, such as the BMAT (Biomedical Associations Test) and LNAT (The Law National Aptitude Test), and organise mock interviews.
We offer Med Soc and other subject specific extension classes. Our careers staff, Sixth Form tutors and subject staff are always available to provide help and advice. Students also have their own dedicated tutor to support them through the process.
OXBRIDGE AND MEDICINE CANDIDATES
Students with the academic ability and curiosity may wish to apply to Oxford, Cambridge or medical school. You can be placed on the GDST Oxbridge on Track Programme or GDST Medics on Track programme. This is a unique programme set up for Brighton Girls students and involves developing research skills, independent learning skills, interview skills and much more, to support your application.
2022 TOP TEN UNIVERSITY DESTINATIONS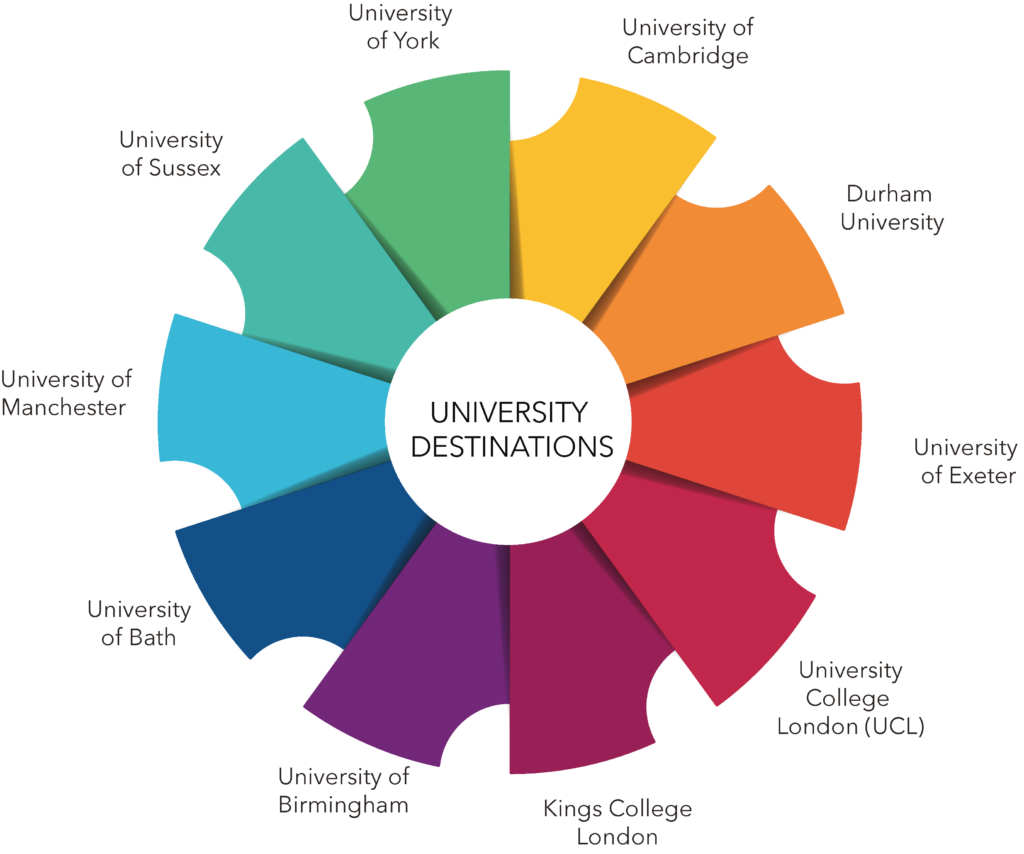 ---
GDST benefits
The GDST offers specialised tutoring and the opportunity to attend an Oxbridge Conference. This is an immersive two-day experience with first class support during the selection process at highly competitive universities.
You also have the opportunity to attend GDST career insight days. These take place throughout the year at employers' premises and offer an early opportunity to engage with potential contacts. The full spectrum of careers are catered for including business and finance, the arts and science and engineering. We encourage you to attend at least one of these events during your time in the Sixth Form.
The GDST Alumnae Network, the largest organisation of its kind in the country, gives you access to over 70,000 professionals who can offer help, advice and work experience opportunities. Sixth Form students can connect with alumnae via the GDST Rungway app which is great for asking questions and making useful connections with those already at university or in the working world.
Sixth Formers can benefit from help with sourcing work experience with alumnae and opportunities to apply for paid internships via the Network