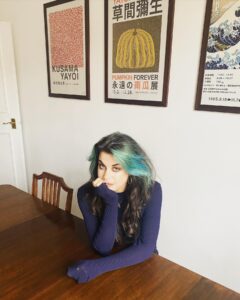 Daisy Wright
1. When you were at Brighton & Hove High School, and what is your fondest memory of school?
1998 – 2012
Sixth Form in general – hysterical, manic and completely unhinged young women on mass, just being brilliant.
2. Who was your favourite teacher and why?
I was fortunate enough to experience the magic of two sets of double acts: Mr Sherwood and Miss Baldwin – political and historical oracles, and Mrs Ashdown and Mrs Schilt – English literature and theatrical wizards. Alongside their incredible knowledge, each taught me to stop, think, reason and really trust my brain.
3. What were the benefits of being in an all-girls school?
I had attended Brighton Girls since the age of four, so University was the first time I had the opportunity to learn with boys, (and whilst men are odd in any environment), I was mainly puzzled by the silence of the other young women. They just wouldn't talk. In fact, some of them would pass me notes with questions written on, to ask the teachers on their behalf. All of them had brilliant opinions, but just no confidence to speak.
It wasn't until that point, sat with these silent women, that I realised how lucky I was: the school had gifted me the breathing room, to develop a voice. A gift, these women had not had the benefit of, and a gift I do not take for granted.
4. What did you want to be when you 'grew-up'?
A horse. Though there were certain "insurmountable biological obstacles" regarding that career choice, so secondly, a television producer, which I did before working in politics.
5. What do you do now, and what are the most rewarding and challenging parts of your job?
I work for a lovely Shadow Secretary of State and MP, managing the team alongside strategy and diary. No doubt, the most rewarding aspect of the job is advocating for – and at times if you're lucky, helping those in need. The most challenging aspect would be the constantly shifting landscape of politics.
6. What are you most proud of so far?
The war in Ukraine has seen the Home Office issue over 150,000 visas to refugees. When the war broke out, the system was completely overwhelmed and applications could easily get lodged or lost. It was mayhem.
One applicant was a little girl. Her family had all had their visas issued but were waiting in Odessa for hers. It never came.
I would call the Home Office daily, calling in favours, writing and rewriting. I had her name scribbled on a note in my wallet, for the spelling, just in case I should get a call. Losing signal, jumping on and off trains. And then, the visa finally came.
The family left on the same day that Odessa's airstrip was shelled. The family lived next to the airstrip, actually backing on to the runway. They would have been there were it not for the divine timing of it all. I still have her name in my wallet.
7. What was the best piece of advice you were given whilst at Brighton?
Mr Sherwood: "Question the source."
8. What advice would you give to your 18 year old self?
Sometimes it will feel like you've been buried, when actually, you have been planted.
9. What book, film or piece of music would you recommend to your younger self and to your fellow alumnae?
Beyonce.
10. How would you like to be remembered?
I am not fussed about being remembered or credited, but ideally, I would like to live a helpful life, with intent and good craic.