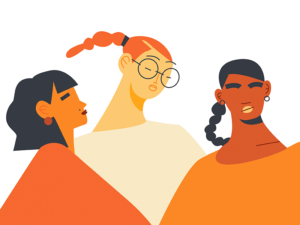 Leaving school yesterday, for the first time in a long time, I called home to request a lift. This was partly because I was tired (as I'm sure we all are after the joyous sensory overload we have experienced this week); partly because it was getting dark (and the biting wind didn't help either); but it was also because I had been sitting at my desk reading a Guardian article about the social media response to the tragic disappearance of Sarah Everard. The article cited comments from Twitter as thousands of women voiced experiences of harassment, abuse and feeling unsafe in public places. The Tweet that made me stop and think, and then call for a lift, was this one:
"The fact that basically every woman on here is freaked out because we all feel like we could have easily been Sarah Everard says it all really."
The week began with International Women's Day; it will end with a vigil to make the streets safer for women – and, in amongst all this, we've heard first-hand from a woman who discovered that marrying a prince did not bring what the fairy tales promised, and we witnessed every commentator and critic question whether her own tale was one of fact or fiction.
This was a week that brought home to us the many challenges faced by girls and women but, for me, it was also a week that reminded me why I became a Head of a girls' school. The outpouring we have seen on social media over the last few days demonstrates that times are changing. As a school, it is our responsibility to keep the momentum going. By creating a safe space for reflection and discussion, we aim to give our students the confidence to turn thoughts into actions, either now or in the future.
Just as we witnessed over the summer, as the world reacted to the death of George Floyd, this week we have seen how quickly we can find strength and courage through our collective voice. Once again, we find ourselves revising our stance on social media. By amplifying the words of the press, social media has played its part in the misery of Meghan Markle but, on the flip side, we have seen it used to give a louder voice to women and, every time this happens, we make progress.
Whatever the truth about Markle, she certainly stuck to the theme of International Women's Day 2021 in that she #ChoseToChallenge – something is bound to change as a result. The tragic loss of Sarah Everard has reignited an important conversation – this will never remove the risks we face, but it will allow us to raise awareness, to have those important discussions, and take action to bring about positive change.
So, I got home safely last night, and then spent the evening reading through applications for roles in next year's Student Leadership Team. The openness and honesty of our Year 12 students, the clarity of their voices as they reflected on what a Brighton Girls education has given them, was heartening.
I went to bed feeling optimistic, and decidedly less freaked out by the world.