As part of Eco Fortnight, students from each house competed against each other in a Minecraft speed-building Esports competition. Students had 25 minutes to build an object based on the eco-theme. They worked in their house groups to build this (all years were involved). There was excellent collaboration within the groups and some brilliant resilience by those battling against superior numbers. 
1st Round
Create a house/building with an eco-focus. 
Stanley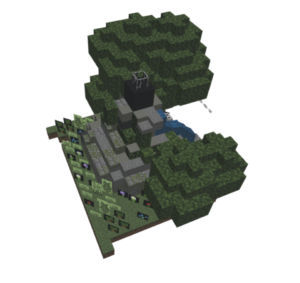 Rachel and Marcie designed a rewilded home based around a disused factory tower. They allowed nature to take back the building and built a bee hive and accommodations within the building.
Gurney 
Ellie and Maise opted for a tree-lined haven with an open top and a central pond complete with fish and plants. They looked to use reclaimed and natural materials for this property.
Grey
Beatrice battled against the competition as a solo entry in the first round, creating a wonderful single-floor abode, and had just begun to develop the rooftop greenhouse complete with a small pond.
Lyttelton
Bernice, Alex, Katla, and Eve built a treehouse home using the surrounding nature and natural materials. The house had 2 high-up sections and an allotment to grow their food sustainably. 
2nd Round
Build an eco-conscious and creative vehicle – the objective was to be as creative as possible with this one.
Stanley
Rachel and Marcie decided to develop an eco helicopter whose primary purpose was to fight wildfires. Powered by solar and recycled materials which included stone. 
Lyttelton
Bernice, Alex, Katla, and Eve built a solar-powered bus that was wooden and powered by solar panels on the roof.
Grey
Esther (Stanley), Mariella, and Jess joined Beatrice this round to create a bee-influenced, wooden, and stone truck, whose primary purpose was to sell flowers. Excellent technical skills on display with the automated steps on the rear that allowed access to the roof and also revealed the interior when crossed
Gurney
Ellie and Maise were joined by Cynthia in building a repurposed electric-powered Taco truck. This also would be selling plants to the public from its side window.