As part of the GDST Leadership Enterprise Advanced Diploma (LEAD), our Sixth form students, helped by mentors from the London School of Economics (LSE), created their own business. With a focus on sustainability, Year 12 students chose to create jewellery that was affordable, recycled, and handmade to encourage shopping locally and being environmentally and ethically conscious. Profits are going to their chosen charity, the Brighton Unemployed Centre Families Project (BUCFP), which provides support to families in the local area suffering poor well-being due to their financial situation. All the Year 12s played a vital role with Hannah and Raphaela working as CEOs, helped by Laiba and Niamh as COOs. Finance was managed by Mary and Ruby, sales by Liv and Alice, charity by Lili and Lula, marketing by Laila and Khushi and product development by Hannah and Laila.
How they did it
To create the products, they up-cycled jewellery found in charity shops, transformed beach litter and sea glass, and got to work with the help of other students. Inspired by Brighton, in addition to the natural or recycled resources they could acquire here, the project involves the community by supporting local charity shops and giving all profits to the BUCFP charity. Taking apart old bead necklaces found in charity shops and up-cycling them creates a product which moves away from harmful fast fashion, toward a more circular economy. The students identified this as a key selling point which linked to tackling the problem of waste in Brighton.
As part of their marketing strategy, they implemented a creative task where pupils could get involved with designing the product. Some of the initial design sketches is shown below, based on the feedback and research they acquired from fellow students. Often sustainable products aren't as affordable as fast fashion, but the team managed to work with a 30% profit margin and make an overall profit. The students learnt valuable employability skills and awareness of the business world, collaborating as a team with some expert insight. As a key part of the GDST initiative was benefiting from mentoring, the team heard from guest speakers such as the founder of the Little Box Company, who led the girls in a business workshop, in addition to LSE mentors.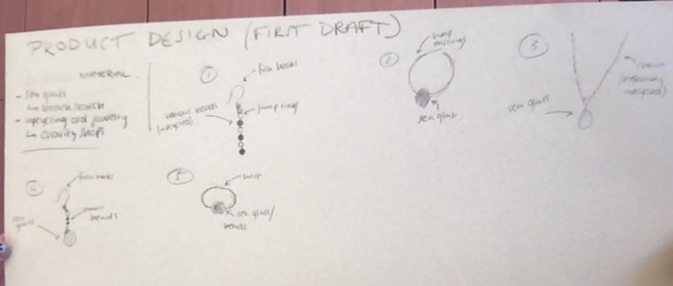 About LEAD
The LEAD programme was launched by the GDST for sixth-form students to be able to create real change and give back to their community while learning leadership and entrepreneurial skills. Cheryl Giovannoni, Chief Executive, GDST, explained that the project looks at recognising strengths and how to learn from mistakes.  To prepare them for a fast-changing, post-pandemic workplace the students had access to specialist insight and business advice from LSE Generate and GDST alumnae. The online learning section of the programme included modules on leadership and the workplace, with a key thread on the power of mentoring and how it can benefit start-up initiatives. After several weekly sessions building their brand and product, the students presented to a room of people including London School of Economics mentors and the other GDST groups partaking in the project. They won an award for Most Resilient so a huge congratulations to the team. Overall, the girls learnt invaluable skills which will be widely applicable in their future, whatever path they choose.