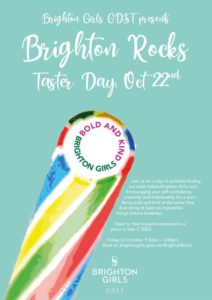 Join us for a day of activities finding out what makes Brighton Girls rock. Encouraging your self-confidence, creativity and individuality, for a start. Being bold and kind at the same time. And doing at least six impossible things before breakfast.
Open to Year 6 pupils interested in a place in Year 7, 2022.
Friday 22 October
9.30am – 3.00pm
Sign up below – and if you haven't been in for a tour as yet then please sign up for one below.