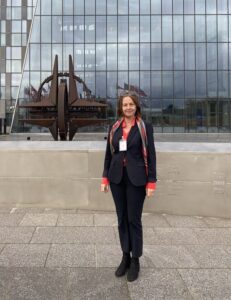 Dame Fiona Murray, Class of 1986
1. When you were at Brighton & Hove High School, and what is your fondest memory of school?
1982-1986
I was at BHHS for about four years for my O'Levels and A'Levels….I suppose my fondest memories are of wearing a very poofy pink strapless dress with a large bow on the back for the leavers ball….and sitting in the library doing chemistry with my friend Victoria – she needed a good grade so she could get her place at medical school so we were very motivated!
2. Who was your favourite teacher and why?
Really it was Miss Parsons my chemistry teacher – she was really serious and so thorough. And also my geography teacher who just made it all so interesting and widened my horizons literally and figuratively.
3. What were the benefits of being in an all-girls school?
Well its hard to say now because a lot of the work and research I do is actually focused on some of the challenges that we have in our society that limit the inclusion of women and others from important parts of our innovation economy. We know that much of that comes from unconscious bias and from women having different networks. But it is also about us having the confidence to step up and speak up. Being at an all girls school is a space where its ok to be a science person without feeling that is not cool, or where you can speak up in English class without feeling self-conscious. That is what made a difference to me. My daughter is now at an all girls school and I see some of those same benefits for her and her friends.
4. What did you want to be when you 'grew-up'?
I was always confused about that – I knew I was interested in science but didn't want to be a doctor. I also enjoyed history but couldn't imagine what I would do if that is what I studied. So, I think the answer was – not sure.  I chose to read Chemistry and then found my path towards doing economics and sociology of science and doing science policy – helping understand the conditions that we need in our economies to ensure that our investments in science and technology really solve the problems that matter to us.
5. What do you do now, and what are the most rewarding and challenging parts of your job?
I am a professor at MIT which is a university based in Cambridge, MA in the USA. I work at the School of Management there teaching students how manage innovation – how to take science and technology and use it as the basis for solving major problems – building new teams, raising money and dealing with regulations etc. I also do research on what policies really make a difference to innovators and to scientists' effectiveness. I have been lucky enough to work closely with leaders in the UK government giving advice on what who help ensure that we get the investment we need into startups that are taking amazing ideas out of the lab to create new products. I also advise on how to ensure that we get the best education for scientists, that includes opportunities to do entrepreneurship while at university.
6. What are you most proud of so far?
Just this year I was awarded a DCMG – made a Dame..! I was incredibly proud of that and of the opportunity it gives me to showcase the work that do many teams have been doing. I love the work and I love to work with teams and give advice, support their decisions so I would of course do the work anyway. But its wonderful to have the work recognised and my mum and family are especially pleased.
Of course other proud moments are personal – watching my children skiing ahead of me and going faster (they are kind and wait for me!) – and training our new puppy to come back when he is called!

7. What was the best piece of advice you were given whilst at Brighton?
I was encouraged to speak up for what was important to me, and to follow my own path, even if it did not fit neatly into any category or wasn't well trodden.
8. What advice would you give to your 18 year old self?
Even though it can feel stressful to not know what step might come next in your career, or you don't have a plan for the future that feels clear and simple, don't worry. If you make good decisions at each step it will be ok…and you will have fun at the same time!
9. What book, film or piece of music would you recommend to your younger self and to your fellow alumnae?
There are three books that I like – Versions of Us – Laura Barnett, Instance of the Finger Post – Iain Pears, and Chimamanda Ngozi Adichie – Americanah – they are all books about alternative paths, alternative futures and alternative perspectives. Each one is so different but each lets you see a situation and how it might play out from a different point of view. I love them because they remind us not to just see things from where we are, and to imagine different futures – that things are not inevitable.
10. How would you like to be remembered?
I hope to be remembered as a person who always inspired the next generation of students and colleagues, and who had fun on the dance floor!