Beth Cordingly, Class of 1994
1. When you were at Brighton & Hove High School, and what is your fondest memory of school?
I was there aged 4-18 from 1981-1994. I don't have one fondest memory, I just think of it as somewhere very safe and happy where I felt valued. Of course, we all have friendship issues growing up, we all have times we remember being told off, making mistakes, many humiliations, some successes. But it was a brilliant school and still is, that allows girls to grow up in their own time and find their own place. It was very creative and quite alternative in terms of some of the teaching. I felt challenged but never in a hot-house, pressurised way. I love the way the girls are allowed to be themselves. My two best friends in the world are still Liz and Rach, whom I met aged 4 in kindergarten at Brighton Girls.
2. Who was your favourite teacher and why?
We had some brilliant teachers but Mrs Ashdown (see Alumna of the Month, October) was the one who inspired me most. She joined us full of energy and her passion for Shakespeare changed my life and the way I felt about his words. It became a lifelong ambition to work at the Royal Shakespeare Company as an actor and now I have, twice, in leading roles.
3. What were the benefits of being in an all-girls school?
I think we learnt self-confidence in an academic environment and that you had a right for your voice to be heard. I remember being surprised when I arrived at university to study English and Drama at how much one male student in a seminar of twenty students was allowed to dominate, without the tutor even realising he was letting it happen.
4. What did you want to be when you 'grew-up'?
An actor. But I used to say, "My ambition or dream is to be an actor but I don't want to be a starving artist living in a garrett so maybe I'll try and be a journalist or something."
5. What do you do now, and what are the most rewarding and challenging parts of your job?
I'm an actor. I've worked for 25 years in TV, film and theatre. I'm also a voice-over artist which I love – I have voiced all the recent adverts for Air BnB, for example. I enjoy screen and stage work for different reasons. I've acted on tv in soaps, serial drama like The Bill for 3 years, fantastic dramas like Netflix's Deadset which was written by Black Mirror writer Charlie Brooker and I've worked in theatre a lot in the West End and regionally. I worked at The Globe Theatre in Romeo and Juliet when it re-opened after Covid in 2021 and it was a fabulous experience having that direct contact with the audience so close. Currently I'm filming a series for Paramount Plus and I love the intimacy of acting for camera.
6. What are you most proud of so far?
My child, Eliza, outweighs anything I have ever or will ever be more proud of – being a Mum was the first time I felt like I had really found a purpose. Sometimes I lie beside Eliza on her bed with our cat on our feet and think, "I am completely happy."
Career-wise, I remember when I finally got to the RSC – after 20 years of trying – after a lot of knockbacks and "No's" and being typecast …. I remember thinking, "This is it. I've done it. Thank GOD. I can retire now!"
But in terms of what we're talking about with stuff learnt from school… I remember being chuffed when a fellow actor and friend I was rehearsing with said something to me. He asked me if I was an only child and I said, "No, why?" He replied, "Because you speak (in rehearsal) as if you expect to be heard." I said, "I think I got that from my school. They were passionate about women's education and about women having a voice and being heard." I think I sometimes talk far too much! But I'm grateful to school for teaching me to think my opinion was valid and valued.
7. What was the best piece of advice you were given whilst at Brighton?
Millie Oliver taught me drama. She taught me a lot about politics and about questioning what we are told by authority and a lot about theatre. I think school taught me to question, to listen, to hear but then to question and to always consider the other side of the story.
8. What advice would you give to your 18 year old self?
Trust what the Rolling Stones said. "You don't always get what you want but sometimes you get what you need." I've made a lot of mistakes and spent a lot of time regretting decisions and worrying that I should have done this or that. It's my worst habit, looking back and worrying. But everything happens for a reason. I don't know how you teach self-confidence but I wish I could have worried less and trusted that whatever I was doing (essays/acting/writing/meeting people for the first time…!), I was good enough. That you don't always have to wait for someone else to give you permission to jump. Value yourself and stop treating everyone else like they are the expert on your life. Whether that's in your career choices or your day to day job or parenthood or relationships. Everyone is just winging it. Relax. No one cares. Everyone is only interested in themselves.
9. What book, film or piece of music would you recommend to your younger self and to your fellow alumnae?
I've just finished Michael Caine's biography which is moving and inspiring as an actor and a human being. But the books that I took from school that I still hear lines from in my head were 'Wuthering Heights' by Emily Bronte, Shakespeare's 'Antony and Cleopatra' and Keats.
10. How would you like to be remembered?
As a good friend and a good Mum.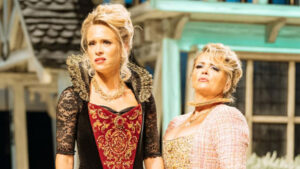 Beth as Mistress Ford in the RSC's The Merry Wives of Windsor