Our Virtual Pupil Guided Tour
During lockdown tours were a little challenging.  So we asked our girls to record a highlights tour of the school. It has been so popular that we have kept it place, even though you can now book in a visit with us. Here we have a look at some of the school with sisters Molly – Year 12 (Lower Sixth), who joined us in Year 7 from Downs Junior School, and her younger sister Lotta – Year 7 who joined us this year.
A map is below to give you an idea of the campus layout and our pupils have made some additional films about different areas of the school.
Virtual Tour Guide Leaflet
To help you navigate the site, and the tour videos below please find below a map and details of our facilities. (Click on the link for a pdf guide.)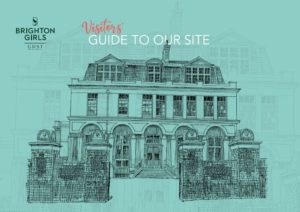 Brighton Girls Visitor Guide Autumn 2020
Year 7 – Our 'N Block'
Starting Senior School means navigating a more complicated curriculum, a new set of teachers and changing classrooms during the day. To help our Year 7 girls we have a dedicated block – N Block – a set of 3 classrooms where the girls lockers are also housed, meaning their bags and belongings are to hand, and they also have their own toilet facilities. They come in here to register in the morning and can use the rooms during break and lunchtime too  – although they also have netball courts and seated areas nearby so there's plenty of opportunity to enjoy some down time outside.
Subject Areas – a closer look
Sports
Science – Biology, Chemistry and Physics
Our Design Hub
Art – coming soon!
Music – coming soon!
Drama – coming soon!
Additional Facilities
Our Astro-Turf Pitches, Old Shoreham Road, Brighton
Our full size football and hockey pitches provide an all-weather surface suitable for many different sports including markings for athletics and a long jump pit.
Brighton Girls Field Centre – Boughrood, Wye Valley
We have our own Field Centre that is used regularly for school trips and situated in the beautiful Wye Valley in Wales. The main building houses the living accommodation, which includes a two-level dormitory sleeping up to 30 in bunk beds. The adjoining staff house sleeps a further six in three double rooms.
Old Market Theatre, Hove
This smart Regency building hosts a contemporary mix of comedy, music, theatre and fringe theatre. We regularly use the Old Market Theatre for our shows and productions, giving the girls a taste of a professional theatre experience.  Our annual dance show, Momentum, is held here as well as other theatre experiences from Shakespeare workshops to drama performances.
Brighton Girls – Designing the Future
After an ambitious multi-million-pound development the iconic Temple building at the heart of our school on Montpelier Road has been transformed. The ground floor is a beautiful collaborative space for all, and a space to welcome the community into. The basement has state-of-the-art music facilities, and the top floor is our dedicated Sixth Form space. Landscaping at the front of the Temple enhances the school's green spaces.